Oran Cousins

Agent

in Port Washington, NY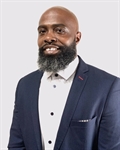 As a real estate professional, I pride myself on offering personalized service to my clients. I work with buyers and sellers in NYC and on Long Island. I'm of Jamaican descent, was raised in Brooklyn, and familiar with all of the boroughs of NYC. As a great team player I excel at coordinating buyers and sellers with mortgage professionals, attorneys, inspectors, contractors, etc. I'm drawn to real estate because each buyer, each seller, and each transaction is unique.

Outside of real estate, my passion has been producing and mixing music, which began in 2010. I began playing the drums as a young teen, which fueled my love for music. This led to a degree in Audio Production, and I am aspiring to work with TV/film sync licensing. I'm also a fitness enthusiast, I've competed in 2 body building competitions at the age of 13, and I played football in high school and junior college. In addition, I was a personal trainer for 3 years. Fitness is still an important aspect of my daily life. People are naturally drawn to my positive energy and honesty, which only helps to ease the stress that often accompanies a real estate transaction. Feel free to contact me at any time for all of your real estate needs.